Main • In Concert • The Band • Video/Listen • Clients • PDF Brochure • Dance Set List
New Tropical Pop From the Islands
"A fresh and interesting blend of Adult Contemporary and Island Music
"

Hawai`i's Coconut Joe
presents a unique blend of pop, rock, light jazz and blues, all sprinkled with a little shredded coconut and luscious vocal harmonies. Tropical music of Hawai`i, but done in a contemporary modern style. Music for all ages, kama`aina (locals) and malahinis (visitors) alike.
Have you done the luau show already? Want something more contemporary, but authentically from the islands? Hawai`i recording artists Coconut Joe provides a musical glimpse into growing up in Hawai`i with an eclectic blend of songs of the islands. Romantic, fun, and catchy tunes, featuring the group's trademark harmonies and excellent musicianship.
Check out the different type of concerts they offer or go behind the music with the Joes.
Here are some comments to and from clients: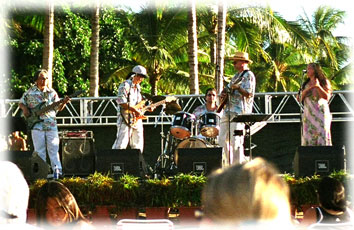 "We (Coconut Joe) would give your group something interesting, fun and tropical with catchy melodies and it all would be music from and about Hawai`i..."
" ... besides, it seems a shame to come all the way to the islands and then listen to the same old songs that they would hear in at a bar in LA, Boston or Pocatello, Idaho."
"Yes, while we feature music from the islands we also include a dance set with all your favorite classic dance tunes along with some groovin' island tunes."
From Private Concerts:
"On behalf of everybody at the function, I want to thank you for an incredibly great show Friday night! It was good to hear the people mention how great the band was, and what a good time they were all having. Thanks again, and hopefully we'll be hearing much more about Coconut Joe." - Chris Butera - Hickam AFB Headquarters
You guys were awesome! The group loved the hula dancer and the "Bubble Song." The client thought they weren't going to get up and dance but obviously you had them in the palm of your hand. Mahalo nui. - Laurie Jo - Destinations In Paradise, LLC
Main • In Concert • The Band • Video/Listen • Clients • PDF Brochure • Dance Set List
Coconut Joe most sounds like...
Beach Boys
Jimmy Buffett
Michael Franks
Crosby, Stills & Nash
Fleetwood Mac
Paul Simon
Manhattan Transfer
Cecelio & Kapono
Kalapana
The Music of Coconut Joe
The Band has just release their second CD Middle Of The Ocean on Turtle Bay Records. Entertaiment Editor Wayne Harada from the Honolulu Advertiser says...

"(CJ's Middle Of The Ocean) is an easygoing, tropical treat, with songs that relate to fun in the sun, joy in the water, memories of an island paradise by daylight and by night.

"Sweet Angelina," "Island Rendezvous" and "Haupia" are laid-back tracks projecting a lifestyle in the tropics; it's the perfect companion while relaxing beneath a coconut tree, on a sunny summer afternoon at the beach.

Video and Audio Clips

Need Dance Music? CJ can add a Classic Dance Set to their show

CJ Island Gifts
Learn more about the CJ Island Gift CD. A perfect island touch for the after concert turn down gift.

Behind the Music
An afternoon or evening with Coconut Joe features the music of island born and raised composer/singer Bobby Rogers. Through his musical poetry, he shares his tunes of growing up in the islands, reflections of love, family, and offering introspective views of life.

The group also features the hot licks of versatile, veteran Hawai`i guitarist Frank Kam. Bob and Frank team with Barbara Ann Rogers to provide the smooth harmonies that is the signature of Coconut Joe. The primary band includes seasoned musicians and entertainers: bassist Peter Agustin and drummer Keoki Van Orden.

Together, they combine to present an eclectic performance of tropical musical art and entertainment from the Islands.

Clients
Recent Conventions/Private Functions
Pioneer Investment (Big Island) • Amgen/Kirin (Maui) • Honolulu Marathon (Oahu) • Fireman Fund (Big Island) • SouthCorp Wine (Kauai) • Physicians Mutual (Big Island) • Nike Football (Big Island) • Midwest Planners (Big Island) • Weinberg Foundation (Ihilani Resort, Oahu) • Hickam AFB HQ (Oahu) • Nike Baseball (Big Island) • KB Homes (Big Islands) • Certified Management, Inc (Oahu)