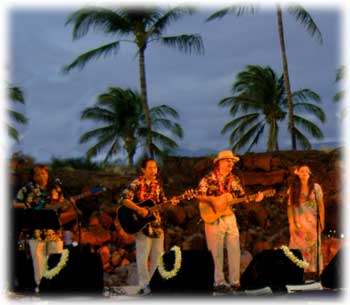 Conventions • Incentive Groups • Weddings • Private Parties • Private Concerts
A Special Night with Hawaii's
Coconut Joe™
3 Island Acts in 1
Providing an eclectic night of island background, show and dance music, custom designed for your event.

Have you done the luau show already? Want something more contemporary, but authentically from the islands? Hawai`i recording artists Coconut Joe provides a musical glimpse into growing up in Hawai`i with an eclectic blend of songs of the islands. Romantic, fun, and catchy tunes, featuring the group's trademark harmonies and excellent musicianship.

Reccomendations: Intimate 4pc, Party 5pc, Full Show 6pc. Check out the different type of concerts they offer:

CJ Tropical Pop
Reception/Dinner Music
During your reception or early dinner, your guests will be entertained with island light jazz, soft rock and pop tunes featuring Coconut Joe's trademark vocal harmonies and mixture of contemporary and songs of Hawai`i.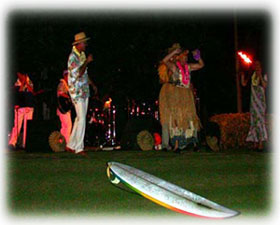 CJ's Tropical Nights
Dinner Show Set
This a fun set featuring stories and songs about growing up in the islands including their ever popular Island Rendezvous, What a Wonderful Day (in Hawaii Nei), A Summer's Wave and many other tropical songs of Hawai`i. Your guest could also enjoy the graceful moves of a beautiful hula dancer, a upbeat musical tour throughout paradise, have some fun with hula skirts and bubbles as they all get to explore growing up in the Islands. Audience participation a must.
Check out a couple snaps from our recent CJ Beach Party on the Big Island

Joey and The Amazing Nuts
Move and Groove Tunes
In this set, the band kicks into their Tropical Rock and Roll mix hanging ten on such tunes as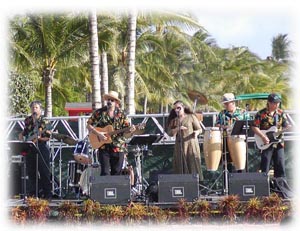 Surfing USA and Johnny B. Goode as well as special groovin' Coconut Joe dance tunes about the islands including their big hits Two Pineapples in New York City and Haupia. Of course, Twist n Shout usually inspires a "Twist" dance contest. The place will be rockin'.
Mixed Nuts
Custom Performances
The above shows can be combined and blended to match your entertainment needs (2-4 performance hours). Choose from: Solo Singer Songwriter, Trio, Quartet or full 5/6 piece band. We'll work with you to make the evening just right. It could be a night of intimate tropical background music with the trio or quartet or if you want the CJ's Tropical Nights show and/or you want to boogie with Joey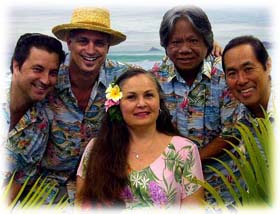 and the Amazing Nuts, let's bring on our awesome drummer and groovin' island percussionist.
For a graceful touch of class to our CJ Tropical Nights program we encourage including a beautiful hula or two by the enchanting Ka'ulu.
Anyway you have it, your guest will be treated to special performance by Coconut Joe and their fresh, contemporary music of Hawaii. Please contact us for more info.
Inkjet Printable Brochure pdf 2.1 mg - Private Events
Check out the new CJ Live in Concert Video
Need a Quote? Fill out a Quote Form
Contact: Bob Rogers, Turtle Bay Records
Box 777, Kailua, Hawaii 96734 • (808) 263-0373 • f(808 263-0323
or email us