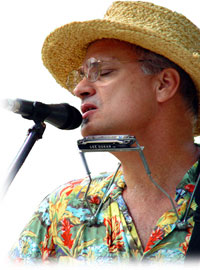 "We're just a little different. It's not traditional Hawai`ian but a fusion of adult contemporary music of Hawai`i today, written and performed hoping to share our aloha." - singer-songwriter Bob Rogers
Behind the Music with Hawaii's
Coconut Joe™
Tropical Rock from the Islands.
Formally with the group Earthsong, Hawai`i born and raised singer-songwriter, Bobby Rogers put together the band, Coconut Joe in 1996 performing his music at venues and concerts throughout the state. A 3rd generation kama`aina (local), Bob's focus was to share his tunes of growing up in the islands, reflections of love, family, and offering introspective views of life.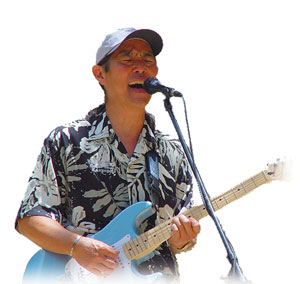 Today the band is made up of veteran Hawai`i musicians providing an engaging, energetic and honest musical presentation from the islands featuring their trademark vocal harmonies. Former Schnazz and Heebeejeebee Brothers guitarist Frank Kam joined Bob in '97 bringing his years of versatile guitar licks and vocals to the group. Bob's wife, Barbara Ann also provides backing vocals and percussion. Long time Hawaii bassist/vocalist Peter Agustin joined the group in '99 and New York schooled drummer Joey Holliday round out the band.

The band released their first CD Two Waters in 1999 reaching high on the national MP3.com charts with their hit Two Pineapples In NY City (#1 on the national Folk Rock charts for two weeks in Jan 2000. Hawaiian Rain hit the Hawaiian Charts repeatedly from 2000-2002).

Review: Middle Of The Ocean

Entertainment Editor Wayne Harada from the Honolulu Advertiser says...

.

"(CJ's Middle Of The Ocean) is an easygoing, tropical treat, with songs that relate to fun in the sun, joy in the water, memories of an island paradise by daylight and by night."

"Sweet Angelina," "Island Rendezvous" and "Haupia" are laid-back tracks projecting a lifestyle in the tropics; it's the perfect companion while relaxing beneath a coconut tree, on a sunny summer afternoon at the beach.

Sit back and LISTEN to CJ Sampler: MP3

In 2002, the group released their 2nd CD, Middle Of the Ocean including their popular Sweet Angelina and Island Rendezvous receiving airplay as far away as Ireland and Tokyo.

In 2003, Coconut Joe introduced a special island pop and rock show to the convention circuit and corporate parties. Along with special cocktail music and dance sets, these private concerts featured the group's "Growing Up In Paradise" songs with stories about the islands. It's all done with catchy, contemporary styles and provides a fun and special island experience for visitors as well as local audiences.

The group is currently working on their 3rd CD with lots of new original tunes.

Mahalo (thank you) for any kokua (help) you can offer in spreading the Word of Joe. - I`okepa Niu (Coconut Joe)

Turtle Bay Records
P.O. Box 777, Kailua, Hawaii 96734
(808) 263-0373 F(808) 263-0323
e-mail: bob@coconutjoe.com, web: http://www.coconutjoe.com


Coconut Joe™ 1999, © 2002, Turtle Bay Records © 2005, Robert C. Rogers © 1997-2003 All Rights Reserved