the house band

Bob Rogers
vocals, acoustic guitars, keyboards
Frank Kam
vocals, electric and acoustic guitars
Barbara Ann Rogers
vocals
Peter Agustin
vocals, bass
Herman Regal
drums
Robert Blok
percussion

"There's No Joey in Coconut Joe" - Evolution of Joe
Curtis Vanderloop of the Irish Hearts, Gabe Baltazar, Brien Matson, Rick Broadwell, Noel Okimoto, Mitchell Fukumoto, Eric Peterson of the Eric Peterson Band, & Michael Rogers
~
Produced by Bob Rogers
Production Assistant: Frank Kam
Engineered and Mixed by Bob Rogers
Mastered by Eddy Schreyer, Oasis Mastering, Los Angeles, CA
Digitally recorded and mixed at Rising Tide Studios, Kailua, HI
Liner Design, Photos & Notes by Bob Rogers

All words and music by Robert C. Rogers
©2002 Duck Road Music • All Rights Reserved

more notes and mahalos • musicians • back to cd menu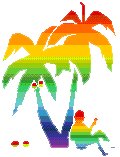 ---
CD Notes:
Aloha. It took us a while to get our second CD out but we think it was worth the extra effort. It was our goal to take you on an eclectic musical journey down the path we call Tropical Pop. Contemporary music from the islands. We hope you enjoy it.

Mahalo and our sincerest aloha to Noel, Gabe, Brien, Rick, Curtis, Mitchell, Eric and Michael for their guest appearances on this recording.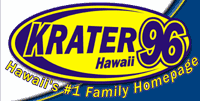 We'd also like to especially thank KRTR FM96.3, KINE FM105.1 and Cox Radio Hawai`i for their fantastic support during the last year. Mahalo to the numerous outer island and internet radio stations across the world wide web for playing our music and spreading our little bit of our aloha. Mahalo to KSSK FM92.3 and KUMU FM94.7 in advance : ).

Mahalo to Booklines Hawai`i, Sony Hawai`i, Kama`aina Kids, Destinations in Paradise, Coconut Grove Music, Stott Realty, Dave & Linda Reed, Alan Gaylor, Hutch-E Boy, and Bob Scorby's Bongo Emporium for their support. To our families for inspiring and putting up with us, we love you. - Aloha nui loa, CJ

Please note: Human beings played all instruments on this album. No machines where harmed or treated unfairly in any manner during the making of this recording.
Coconut Joe TM 1998 • Unauthorized duplication or distribution is a violation of applicable laws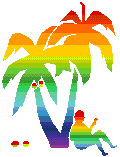 back to CD Menu
---
Press Release
Coconut Joe Releases 2nd CD, Middle Of The Ocean


Hana Hou! Turtle Bay Records is pleased to announce the release of Coconut Joe's second CD, Middle Of The Ocean that will hit Hawai`i stores May 7, 2002.

The CD features a little bit of pop, soft rock, and light jazz from the islands. It's adult contemporary, island music that the group from Kailua, Oahu calls Tropical Pop. Music for tourist, tourist wannabes and kama`aina (locals) of all ages.

Island born and raised songwriter Bob Rogers penned all the songs and again teams with veteran Hawai`i guitarist Frank Kam and Barbara Ann Rogers to provide the group's core vocals and harmonies. Newcomers to the group are veteran bassist Peter Agustin, drummer Herman Regal and New Zealand percussionist, Robert Blok.
Sharing the many musical faces of Coconut Joe's unique brand of Tropical Pop is the focal point of the group's latest CD. Sweet Angelina takes the listener on a world tour returning us safely to the cradle of our Island home. Familiar guest musicians from Hawai`i's jazz scene, Gabe Baltazar, Brien Matson, and Rick Broadwell provide a swinging Dixieland horn section to What a Wonderful Day! while vibraphonist, Noel Okimoto sparkles on Sands of Silver and Gold. Both songs showcase two of Hawai`i's favorite beaches. All About Love is a soft rock ballad that's... well,... all about love, and Island Rendezvous and Haupia continues the group's musical tour of the islands with uptempo island pop tunes.

The title track Middle Of The Ocean visits a little club on the forbidden edge of jungle rock and groove while Light Of The Moon explores the introspection side of the CD. Jazzy Hey examines a sensitive relationship and the Evolution Of Joe makes a couple of astute observations while the band unplugs for an acoustic jam.

More information about the band their new CD is available at their website at www.coconutjoe.com or contact Turtle Bay Records at info@coconutjoe.com, phone 808.263.0373 or fax 808.263.0323
Artist: Coconut Joe; Title: Middle Of The Ocean; Producer: Bob Rogers; UPC 68892-00865-2

Stop our press room for a PDF version of the Middle of the Ocean Press Kit and print photos.